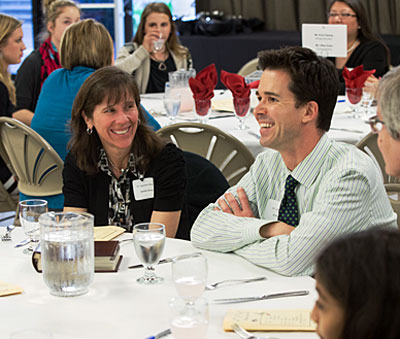 Local optometrist Joe Kolody (right) is one of several
CSU Stanislaus alumni who return to campus each year for
'Dinner With a Scientist.' 
Every year, more than 100 local middle and high school students spend a few hours with their teachers on the CSU Stanislaus campus. They tour science labs, learn about research being conducted by CSU Stanislaus students and get to know scientists from the university and community.
Organized by CSU Stanislaus Professor James Youngblom, the 12th annual Dinner With a Scientist event was held in March. And as with the 11 before it, many of the scientists and teachers who make the event a success were CSU Stanislaus alumni.
Turlock orthodontist Joe Kolody graduated from CSU Stanislaus in 2001 with a bachelor's degree in biological sciences. After obtaining master's and doctoral degrees in the Bay Area, he returned to Turlock to start his career. He jumped at the chance to participate in Dinner With a Scientist, and he has attended each of the last six years.
"I really enjoy meeting these young, budding scientists and hearing about what they are interested in," Kolody said. "I also enjoy coming back to my alma mater, taking in the beautiful campus and catching up with the professors who guided me along my academic pathway."
Youngblom recruits the scientists, and he said the group is usually fairly equally divided between CSU Stanislaus faculty and scientists from the community. The Stanislaus County Office of Education recruits middle and high school teachers for the event, and each teacher picks three students to attend.
More than half of the teachers at this year's event were CSU Stanislaus graduates. Kay Myers, who earned her credential at CSU Stanislaus in 1978, has been teaching at Modesto's Beyer High School for 29 years. She's attended Dinner With a Scientist five years in a row, and she said her students always come away impressed and enthused.
"It's an opportunity to let students know the great college we have available to them in our backyard," Myers said. "It also gives me the opportunity to point out some of the wonderful changes that have occurred on the campus and to encourage them to consider CSU Stanislaus as a viable option for their college pursuits."
Brandie Medina, a 2002 biological sciences graduate, returned to Turlock with her husband after obtaining her master's and doctorate in her native Southern California. Now a local optometrist, she said she's enjoyed returning to campus each year for Dinner With a Scientist.
Medina said that in addition to maintaining a connection to her alma mater, Dinner With a Scientist provides an opportunity for her to give back to a university that meant so much to her life and career.
"CSU Stanislaus is really at the heart of the community," Medina said. "Because the class sizes are smaller than at other universities, I was able to have a more personal relationship with my professors. They recognized my potential and encouraged me and challenged me to work harder and do better."