Over 80 college and university representatives from all over the U.S. will be at the Central Valley Western Association for College Admission Counseling (WACAC) College fair on May 5th. Admission is free and open to 9th – 11th grade high school students, prospective college transfer students and their parents.
Attendees will have the opportunity to speak to representatives and gather information. Over 1,000 students are expected to participate. This fair is co-sponsored by WACAC and CSU Stanislaus.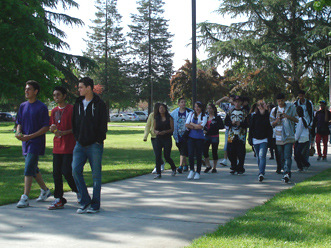 Tuesday, May 5, 2015
10 a.m. - 1 p.m.
Ed & Bertha Fitzpatrick Arena
Event Details
Schools
Let us know you are coming. If you are bringing a group of students we ask that you please register.
Students
Maximize your time and come prepared, get your personalized barcode early. To ensure that colleges and universities of your choice obtain your contact information we recommend that you pre-register your mailing address. Upon registering you will receive a personalized barcode for you to share with representatives during the fair. Please note that most representatives no longer utilize information cards to obtain your contact information.
Students should pre-register even if they are attending with their school.