The Student Blogger project is a place for students like YOU to meet and engage with REAL, current Stanislaus State students. Bloggers give an authentic, uncensored accounts of their lives as Stan State Warriors. Follow them as they work their way through classes and life!
Keep up with all of our bloggers in one place, check out our newest blog: Our Stan State. With a weekly digest that chronicles our student bloggers, guest bloggers and more, staying connected could not be easier.
Anthony
Art, Class of 2016
Carrie
Chemistry, Class of 2016
Luis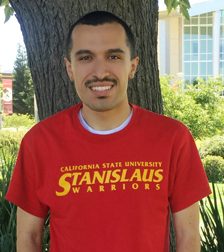 Read Luis' Blog
Master of Business Administration, Class of 2017
Tamara
Nursing, Class of 2017
Makenzie
Psychology, Class of 2018
Our Stan State
Visit & SubscribeWeekly Digests, One Subscription.
Want to blog with us?​
We receive many applications for paid blogging positions and can only accept a few bloggers; however, we sometimes consider applications for volunteer bloggers.
If you're interested in being considered for a volunteer blogging position, please submit the application found at the link below. Applications should be submitted via email to saguiar@csustan.edu, or in person by mail to:
Sara Aguiar, Communications Analyst
Admissions & Outreach Services, MSR 150
Stanislaus State
One University Circle
Turlock, CA 95382
Volunteer bloggers are always eligible to apply for a paid position when one opens up, but are not guaranteed a paid position.
Volunteer Student Blogger Application.pdf
Archived Blogs