Degree and GE Requirements
Introduction to degree and General Education requirements at Stanislaus State.
About General Education
General education is fundamental to a university education.  General education develops foundational communicative, quantitative and critical thinking skills.  It promotes an understanding of history and culture, fosters appreciation for the arts and humanities, and encourages a broad knowledge of social issues and scientific inquiry.  Attaining a general education means that students understand that all learning is connected and enriches all aspects of life: personal, civic, and professional.
General Education Requirements
The University's General Education requirements are on the Stanislaus State Academic Catalog – select General Education Requirements in the left-hand navigation.
General Education Planning Sheet | 2020-21
For prior General Education requirements visit the Academic Catalog.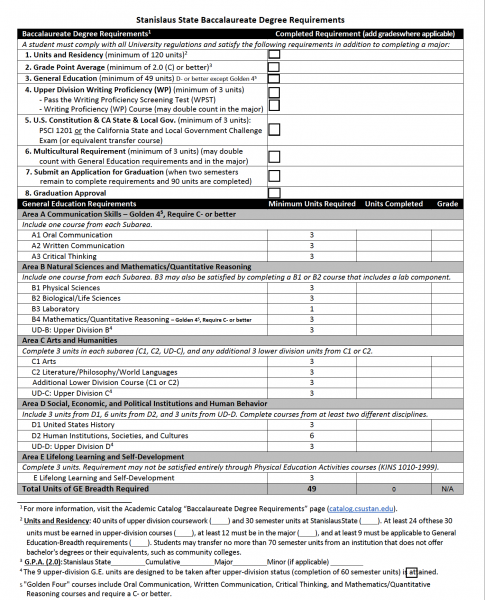 General Education Planning Sheet (PDF)
General Education Petitions
Students may petition for waiver or substitution of certain university-wide academic requirements. Also, students may request a review of decisions affecting their academic status, or petition university deadlines. A petition form and instructions are available online. The petition form, as well as any supporting documentation, is necessary in order for the advisor to properly assist the student. A $10 processing fee via CashNet, will be charged.
Petitions Within The Major Department
A request for waiver or substitution concerning a departmental major, minor, or other requirements should be directed to the appropriate department. No processing fee is charged.
Other Resources for Students