The Student Blogger project is a place for students like YOU to meet and engage with REAL, current Stanislaus State students. Bloggers give an authentic, uncensored accounts of their lives as Stan State Warriors. Follow them as they work their way through classes and life!
Keep up with all of our bloggers in one place. With a weekly digest that chronicles our student bloggers, guest bloggers and more, staying connected could not be easier.
Margie
[1]Read Margie's Blog [1]
Counselor Education (M.A.), Class of 2021
Sara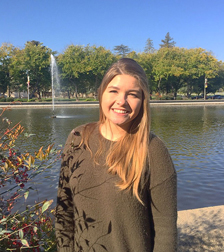 [2]Read Sara's Blog [2]
Agriculture,
Class of 2019
Andrew
[3]Read Andrew's Blog [3]
Communication Studies,
Class of 2020
Shadi
[4]Read Shadi's Blog [4]
Credential Program,
Class of 2019
Komalpreet
[5]Read Komalpreet's Blog [5]
Business Administration
Class of 2020
Our Stan State
[6]Visit & Subscribe [7]
Weekly Digests, One Subscription.
Archived Blogs