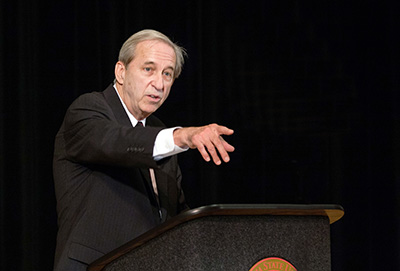 President Joseph F. Sheley gave his annual address to the campus community Aug. 27, identifying the steps being taken to improve student success and outlining plans for the new year, from developing the University's signature and identity to enhancing health and safety efforts on campus.
Sheley said that while the increasingly stable CSU budget has allowed for modest enrollment growth for a second consecutive year, the University must continue to spend wisely and strategically. Despite a mostly flat budget, though, CSU Stanislaus appears to be ascending, with no shortage of high-profile recognition, faculty accomplishments and athletic successes.
"Our award-winning professors, coaches and staff members have in abundance the ability to inspire our students," Sheley said. "And those students in turn inspire us every day."
View President Sheley's Full Remarks
In last year's address, Sheley called for an increased focus on advising and on the foundational skills that allow students of all majors to succeed when they leave CSU Stanislaus, chief among them being the ability to write well. Steps are being taken across campus to build students' writing skills, and there is an increased commitment to academic advising, psychological counseling and career services for students.
That work will continue this year, Sheley said, with an additional effort to connect with K-12 schools to ensure students and their parents know what it takes not just to get into college, but to succeed there.
"The Central Valley needs more college graduates," he said. "That will entail an advising effort writ large — community-wide, coordinated and focused."
The commitment to student success should be CSU Stanislaus' signature, Sheley said, and with that signature must come easier identification of the University itself. He plans to launch an effort this year to develop a new University logo, to settle on consistent short names for the University, and perhaps to develop a tagline that encompasses the University's mission and strengths. The result, he said, will be an increase in pride on campus and in the community.
"There is real value in forcing ourselves to distill our purpose to fewer than 10 words, or to attempt to capture the University's essence in a single image or design," Sheley said. "Clarity and focus naturally translate into better storytelling, and that means more effective advocacy, support and respect."
Another part of the CSU Stanislaus story must be the health, safety and security of everyone on campus, he said. Colleges across the nation are facing new regulations aimed at improving their response to and handling of sexual assault cases, in particular, and CSU Stanislaus will continue to work diligently to implement all laws and to educate students, faculty and staff about relevant policies. But even more important, Sheley said, is the sense of community and responsibility that everyone within the University family should feel.
To help illustrate the point, Sheley was joined on stage by students from Warrior Watch — a program that promotes individual responsibility in helping other students who are in trouble — and members of the Student Health Advisory Committee.
"This is our home, and we look out for each other in our home," he said. "Those here on stage already have committed to help us change ours to a culture of bystander intervention. They are making a difference, and I am grateful. I now ask others to join them."